Testimonials
I decided to treat myself to a piece of art work for me to enjoy and pass on to others down the road. So I made the right decision, bought your rocker, and I have no regrets.
It is excellent workmanship, quality wood, and it will last my lifetime. I'm glad I found you as the artist.

Lou Alfeld - Benicia, CA
I have been looking forward to your next chair and I must say it is magnificent! We have been enjoying our first two chairs immensely. Truly works of art!

Bill Chappelow - Guatay, CA
I finally got to see our rocking chair in person. You are an unbelievable artist and craftsman!! This chair is SUCH a work of art. Thank you so much!

Kris, Carmel-by-the-Sea CA
Comfortable Woodwork
Each Rocker incorporates independent back braces curved to provide lumbar support, yet flexible enough to cradle your entire back, whatever the profile. I challenge the conventional comfortable chair paradigm: Wood is best!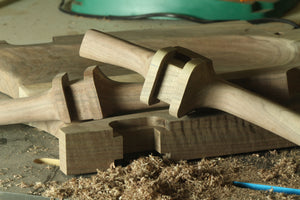 Want something Special?
I build chairs custom sized to fit their owners! I just need a few specifics: How tall are you? What style are you looking for? What types of wood do you like? With a deposit I can make you a chair and send you picture of the finished product before completing the sale. Contact me for my current build schedule.
Subscribe to our newsletter
Promotions, new products and sales. Directly to your inbox.